Andrea Dovizioso has kept his 2017 MotoGP Championship hopes alive, if only just, by winning the Malaysian Motorcycle Grand Prix, October 29.
Here's five things we spoke about after the race.
Team orders? Team orders… Team orders!
Sick of hearing about it? We are too! Let's move on entirely.
Two world champions (no, we're not serious)?
As it stands, Marc Márquez leads the championship by 21 points, meaning he only needs to score five points at the next round in Spain to secure his fourth Premier Class title (that's if Dovizioso wins). The way he's been riding he's all but certain to do so…
But if Dovizioso wins the race, can we have two world champions? Just this once, p-p-please?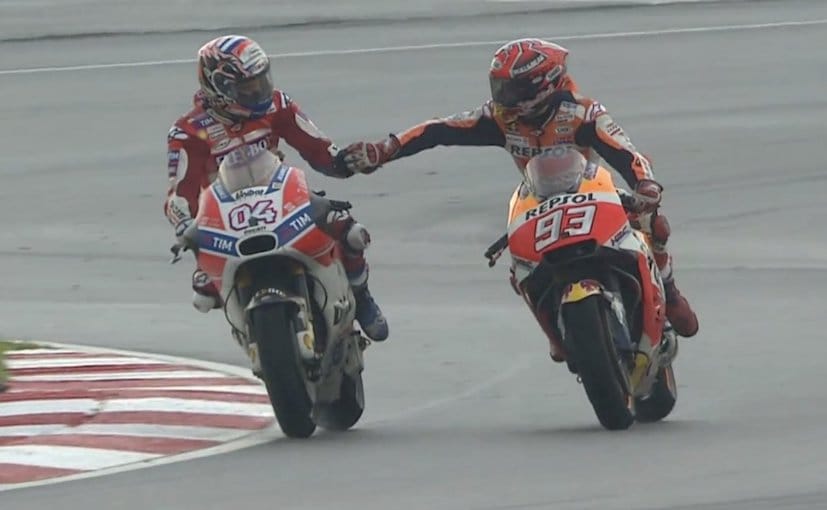 It's hard not to imagine in the event of Márquez either scoring zero points, or very few of them, that the season will go down with an asterisk next to it as one Márquez lost.
If that does happen and Dovizioso is crowned 2017 MotoGP Champion, he really deserves it in his own right. Of the two neck-and-neck battles between the Spaniard and the Italian (Austria and Japan), Dovi has taken the points both times. He's won six races (the same as Márquez), finished all but one race, although a few fifth and sixth places could prove to be costly.
On the other hand,  yes Marquez has crashed-out more, but his results have been much better on average.
Hyperbole aside, only championship points count. We think both will make a deserving Champion and despite what happens, that's how the 2017 winner should be remembered.
Jorge Lorenzo
The Malaysian GP provided some more evidence in favour of when Jorge Lorenzo will win a race on the Ducati, not how.
The last two seasons haven't been kind to Jorge, for the most part he has struggled in the wet.
This year the Spartan has been criticised for his slow start on the Ducati, which is somewhat unreasonable. However as the season's progressed his riding style has developed to suit the machine. His results are getting better and more consistent (65 points in the first nine races, 82 points in the last eight),  leading both wet and dry races, and for an increasing amount of time. This year in Sepang, Jorge not only beat both the Factory Yamahas on 2017 M1s by a mile to finish second, but an extremely quick Johann Zarco on the 2016 M1 (the same basic spec Lorenzo rode to third place at Sepang in his last year with Yamaha) too.
Had it not been for Words Which Shall Not Be Mentioned, he potentially could've had his first race win on the Ducati at Malaysia.
Oh yeah, there was that front end save…

F%@k a duck
Just how good is Danilo Petrucci in the wet? Unfortunately the Italian had bike troubles before the warm-up lap which forced him to start the race from pit-lane. From there he managed to make his way to P14 after the first lap, eventually rounding-up the majority of pack to finish sixth. One could only wonder where he would've finished had he started from his qualifying position of 13th… Bravo Danilo!

Jack Miller
Another great ride from Jack Miller, who fought with the lead-pack to seventh place at Phillip Island, finishing the Malaysian GP eighth. It will be very interesting to see if he can continue his form at the last round in Valencia, Spain.
What we're really looking forward to seeing with Our Jack won't happen until the race is over… The morning after the race, he'll be testing the Pramac Ducati for the first time at the same circuit over two days. Although we won't be able to glean too much information from what will ultimately be a shakedown of sorts, it will provide an initial impression of where Jack's at compared to both others switching machinery; and those on the same, albeit riding '18s.